Our Story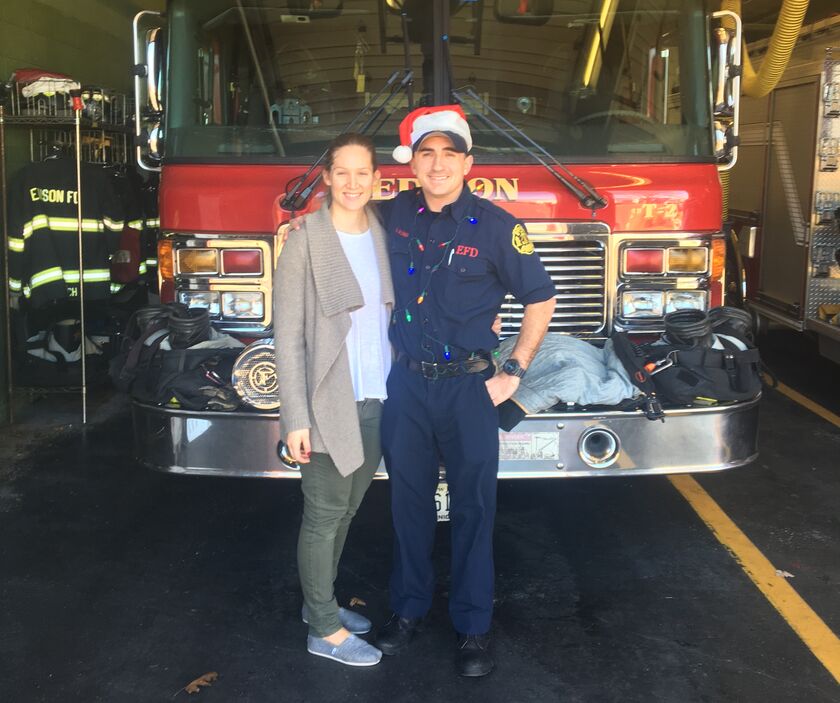 There are two "how we met" stories that could be told here. The time we briefly met at a bar for our friend's birthday party and didn't even look twice at each other or the second time where pizza brought us together. Let's tell the second one because the best stories begin with pizza....
In May 2013, Liz went to visit her best friend, Ginny, at the pizzeria where she worked. It was here that she saw the goofy pizza delivery boy/man with cowboy boots on and thought... "why the heck is he wearing cowboy boots?" When Liz asked Ginny about the boots, she replied, 'oh yeah, he does that." After some quick conversation with each other, Devin had to leave for a delivery and Liz had to go to work. It was up to Ginny to bring these two together and so she did.
After a few months of casually hanging out at the firehouse where Devin volunteered, carnivals, the beach, country concerts and slip-and-slide parties, Devin asked Liz to be his girlfriend. The years to come brought many exciting adventures, including Devin being hired by the fire department, Liz graduating with her Bachelor degree, vacations to Long Beach Island and Devin's first trip to Disney World. Perhaps one of the biggest things to happen was Liz being accepted to Springfield College to complete her Master's in Occupational Therapy. This meant Liz would be moving to Massachusetts. Many people asked what this meant for their relationship, but that was never even a question for this couple. It just meant that two years of their lives would include more phone calls, FaceTiming, and longer drives in order to see one another.
Two months before completing her time at Springfield College, Liz and Devin decided to get an apartment so that they could live together once school was complete. The move-in date was March 10, 2017. The morning of the move-in, Liz drove to New Jersey from Massachusetts to help Devin with the move-in process. With the help of family and friends, the move-in went smoothly and almost every box was unpacked by the time the sun went down, except for one... the box with the engagement ring.
Read more below!!
Ceremony & Reception
Saturday, October 13, 2018
Attire: Cocktail
Ceremony and Reception
Granite Ridge Estate & Barn
65 Delano Dr, Norway, ME 04268, USA
The ceremony will take place in a wooded site located on the Granite Ridge property, immediately followed by a cocktail hour and reception in the barn. Please dress accordingly as it may be a little chilly at the top of the mountain. The ceremony is set to begin at 4PM. Please refer to the "Details" tab for shuttle times and other information.
Welcome Pizza Party!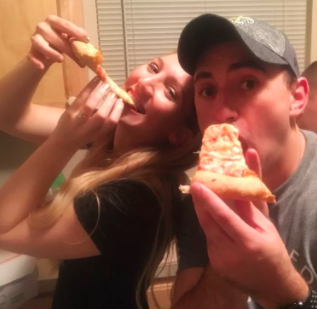 Friday, October 12, 2018
All are welcome to kick off the start to a great weekend and enjoy a slice of pizza (or two, or three) with the happy couple!
Kindly let us know if you can make it! Email us at Russokidney@gmail.com
For this event, please try to carpool as parking is limited. Keep in mind parking on the day of the wedding is prohibited, find information regarding parking under the "Details" tab.
Where: Granite Ridge Estate
When: 6:00-8:30PM
Wedding Party
Edward Kidney - Father of the Bride
Grace Kidney - Mother of the Bride
Kathryn Kidney - Maid of Honor
Danielle Pichette - Bridesmaid
Best friend of the bride since 2001
Virginia Blanco - Bridesmaid
Best friend of the bride since 2005
Ashiana Kidney - Bridesmaid
Sister-in-law of the bride
Eve Hendricks - Bridesmaid
Bella & Makayla Russo - Junior Bridesmaids
Cora and William - Flower Girl and Ring Bearer
Vincent Russo - Father of the Groom
Marianne O'Connell - Mother of the Groom
Alex Storts - Best Man
Best friend of the groom since 2004
Bryan Mulligan - Best Man
Best friend of the groom since 2008
Ben O'Connell - Groomsman
Cameron O'Connell - Groomsman
Daniel Kidney - Groomsman
Edward Kidney - Groomsman